COVID-19 Quilt Project
MASK WARRIORS WANTED!
Dakota Sew & So
2797 3rd Ave. W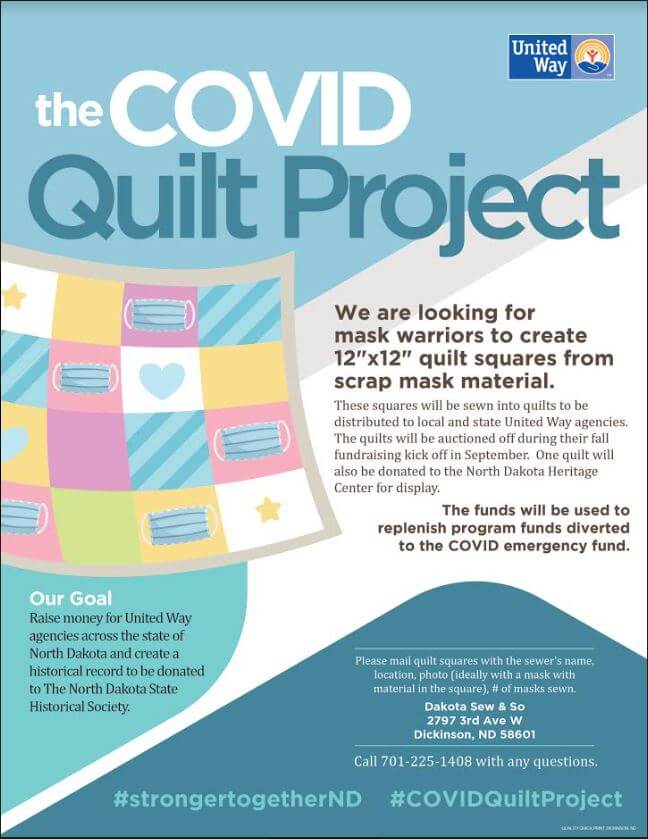 5th
 ANNUAL WPX ENERGY GOLF SCRAMBLE FOR UNITED WAY OF DICKINSON
 Friday, June 5th, 2020 at 8am
Pheasant Country Golf Course (103 Pheasant Dr., South Heart, ND 58655)
https://www.facebook.com/events/3130173677040726/
It's our 5th Annual WPX Energy Golf Scramble for United Way of Dickinson! You don't want to miss the fun or the prizes. Registration fee is $75/person. Please contact Kali or Kaylee in the Killdeer Office for a registration form.
Any Questions please contact Jake Jackson: (701) 260-1319; jacob.jackson@wpxenergy.com
Thank you to our sponsors! Special thank you to WPX Energy for putting the fundraiser together. Together we help 15 local nonprofits and 18 local human service programs! #unitedwayofdickinson #raisedherestayshere #wearestrongertogether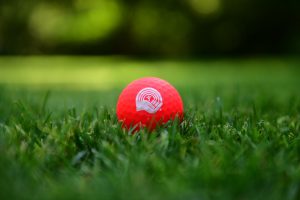 WEEK OF CARING
Monday, June 8th through Saturday, June 13, 2020
Online at https://www.facebook.com/events/680382595871269/?active_tab=about
Every year the United Way of Dickinson gives back to the community with our annual Day of Caring. Typically, each year we serve the elderly, ill, and disabled by doing yard work and house work they are not able to do; however, 2020 has proven to not be a typical year. In fact, 2020 is anything but typical and many of our volunteers are not able to volunteer in the capacity they have in previous years. But they are stepping up to volunteer in other ways as we aid our community during the COVID-19 pandemic. This year, we will be holding a "Virtual" Week of Caring. Each day will have a different opportunity for virtual volunteering. We ask you all to join us. Prizes will be given to two lucky volunteers. *You must post each day during the "Virtual" week of caring. You must post a picture of yourself doing each day's virtual volunteer suggestion in order to be entered to win. For each virtual volunteer day completed and posted you will receive one entry to win*. Our lucky winners will win either a $50 gift card to Players Sports Bar & Grill or a $20 gift card to Serendipity and a $30 gift card to JD's BBQ.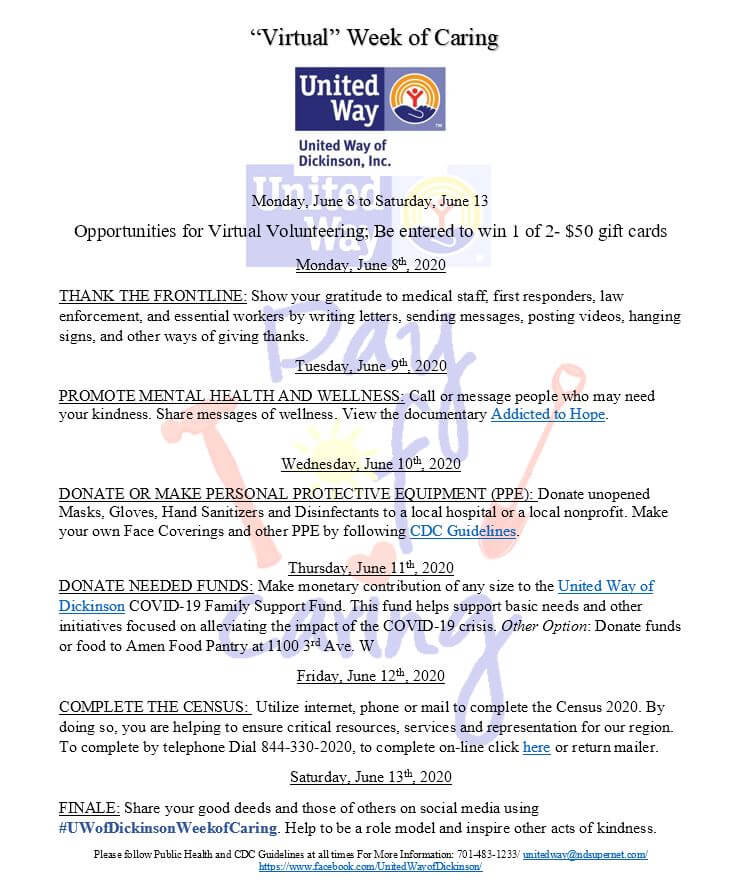 BADLANDS BIG STICKS GAME FOR UNITED WAY OF DICKINSON
Thursday, July 2nd, 2020 6:35-9:35pm
Astoria Field (240 2nd St. SE, Dickinson, ND 58601)
https://www.facebook.com/events/558330388114459/?active_tab=about
Come out to the Big Sticks game on Wednesday July 1 at 6:35pm!
Badlands Big Sticks will be donating $1 per ticket sales to United Way of Dickinson, supporting our community. We will also hold a 50/50 raffle.
Thank you Big Sticks! See you at the game!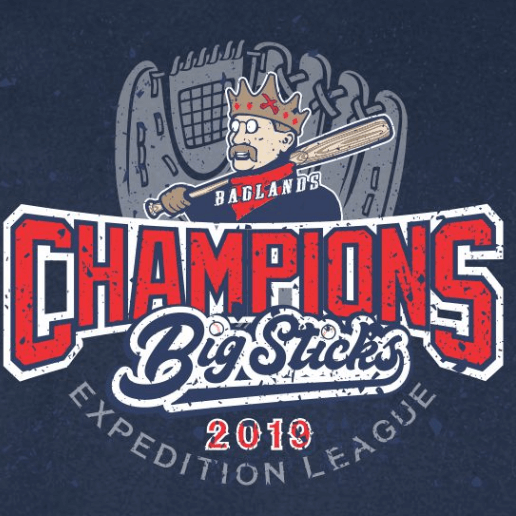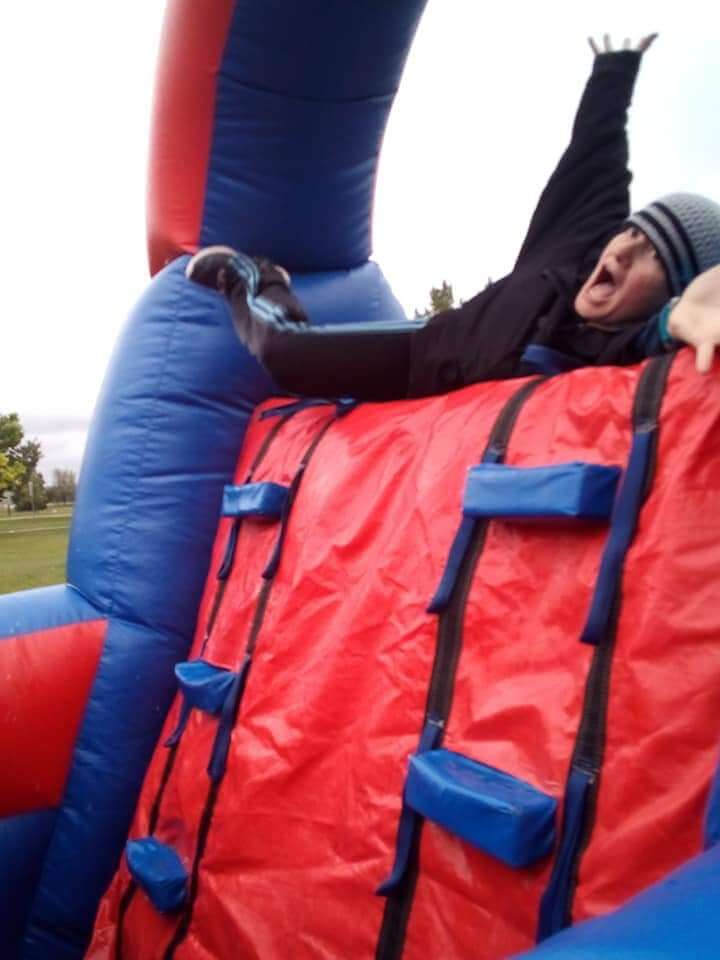 Fill the Virtual School Bus
08/10 – 08/23/2020
https://givebutter.com/fillthebus
Whiting Oil & Gas, iHeart Media, and United Way of Dickinson need your help with our first Fill the Virtual School Bus campaign, an event to collect funds to buy local students and teachers the school supplies they need. Monetary donations may be made at https://givebutter.com/fillthebus, online through Facebook at https://www.facebook.com/UnitedWayofDickinson/, or by mailing a donation to Fill the Bus-United Way, PO Box 501, Dickinson, ND 58602 during the weeks of August 10th and17th, 2020.
COVID-19 has brought to light many financial struggles for our local families. Help us make sure that our local students have all they need to have a safe and successful school year.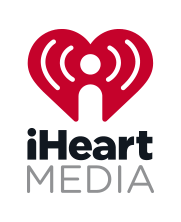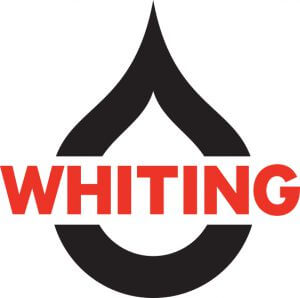 Captain Under Pants Says….Drop Your Drawers!
08/07 – 09/14/2020
https://givebutter.com/fillthebus
Be a SUPER HERO, just like the star of Dav Pilkey's young readers' books. Drop of packages of NEW underwear, diapers, t-shirts, socks, sweatpants, or other clothing items. All sizes for boys and girls needed.
August 7th through September 14th. Donations go to local public elementary schools and United Way of Dickinson's COVID-19 Family Support families in need.